E-commerce Integration Services
Bridge the data between your site, services and customers our ecommerce integration services
Integrated, efficient, and results-oriented business operations
Getting access to important data through various sources using API is one key concept of eCommerce businesses that assist the owners to deliver real-time information about their customers' orders, delivery, and other important information.
We are here to help you with anything that gets an apt connection with your clients, all you have to do is to tell us about your requirements.
Delivering Different Operational Needs with Wide-ranging Integration Services
We have helped hundreds of high-volume brands and growing businesses to optimize their Ecommerce investment and centralize ecommerce operations by integrating with their marketing, inventory management, fulfillment and other back-end systems.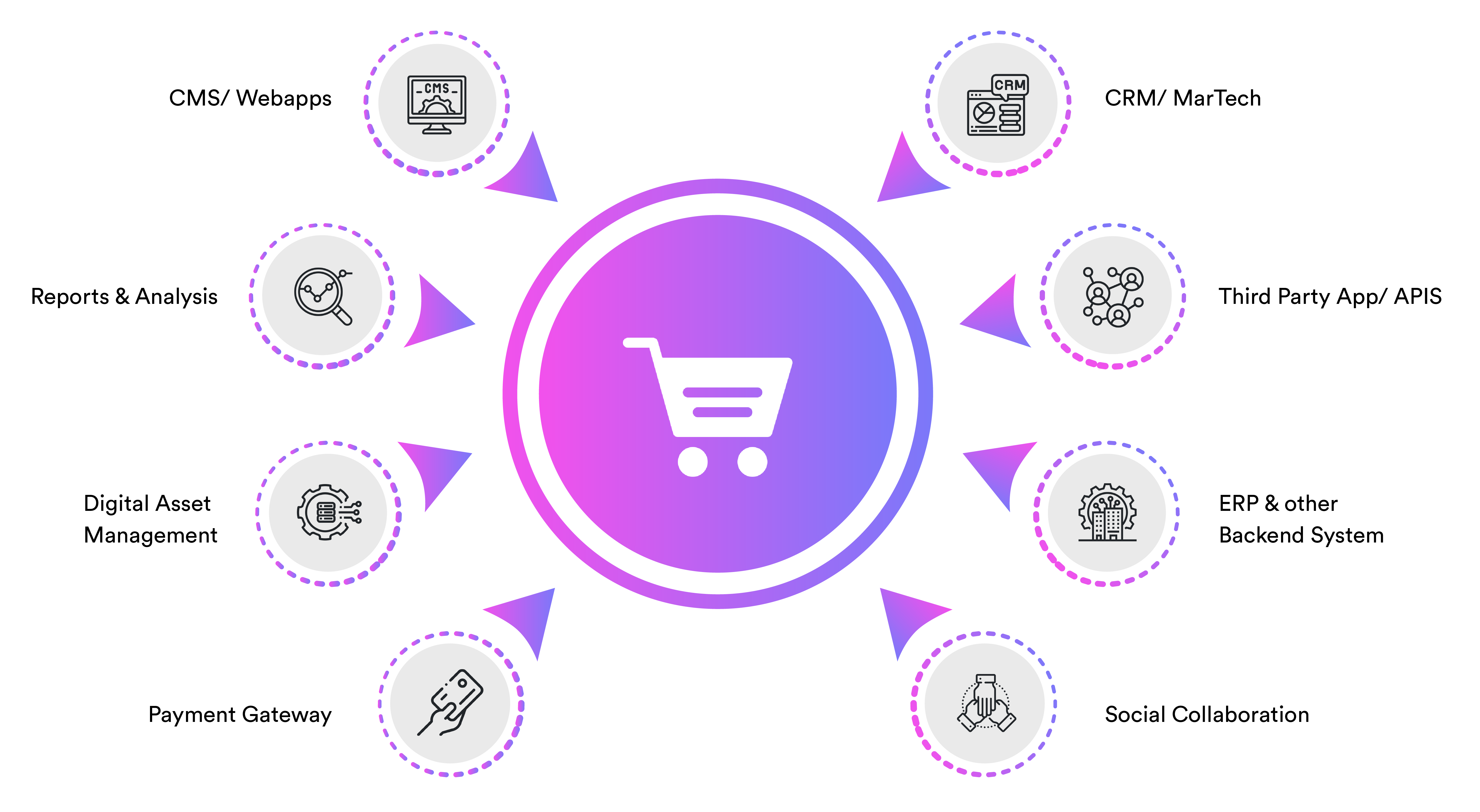 ERP Integration
Enterprise resource planning systems that unify multiple backend operations and functions. A multi-channel integration expediting the bilateral flow of information such as taxation rates, orders, pricing, products delivery details and more.

CRM/ESP Integration
Stay updated with every customer activity using eCommerce system integration software that combines with your Customer Relationship Management (CRM) software and/or Email Service Provider (ESP).

Accounting Integration
We can help you with Linnworks, Microsoft Dynamics, Sage and other accounting packages eCommerce website integrations.

Payment Service Providers
Authoritative Payment Service Providers' forthright integration with our eCommerce system makes certain that your customers' transaction is processed effortlessly and expeditiously. Notable PSP's include Google Checkout, PayPal, Worldpay, etc. Shopping Networks & Affiliates
Based on your necessity we extend numerous levels of eBay and Amazon integration that allows you to sell as well as administrate products on the world's biggest marketplace.

Shipping Integrations
Automate dispatch process by integrating your eCommerce platform with UPS, DHL, FedEx and other delivery partners to decrease workload and provide buyers with pricing transparency and tracking details.
Tech stack we use
Payment service providers
Shopping Networks & Affiliates